I have been neglecting this blog. That doesn't mean I haven't been doing research, but it has been for other projects, such as consulting work, writing a chapter for a text book, writing fiction, participating in a documentary, and working on getting a friend's book fixed up and ready to publish. Research has been a bit slower than usual, both due to the pandemic and due to work.
I have been jumping between working on fiction and non-fiction, and a pleased to say that I have a fiction novella out now through Engen Books. It is part of a series about an archaeologist (kind of more antiquarian, more adventure, less excavation and lab work) who travels to other worlds. Each book is by a Canadian author, most being from the Atlantic provinces, and each adventure is different. You can find the series on Amazon or physical copies at the St. John's Farmer's Market, and my contribution here. Hopefully there will be copies in the Newfoundland and Labrador Public Libraries, but for now, my non-fiction chapter in Canadians and War Vol 3 is available through the Newfoundland and Labrador library system.
Picking back up some research, in the hopes that I will be able to participate in an Australian conference in March, I may have some book reviews soon, and if I present, the presentation to post. The Aviation Cultures Conference is still looking for participants, and where it is virtual, anyone can attend (although it might mean some late nights depending on your time zone!).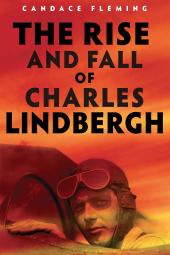 Before I get into some of the books related to the Aviation Cultures Conference, I borrowed the audiobook The Rise and Fall of Charles Lindbergh by Candace Fleming, published by Schwartz & Wade Books in 2020. I listened to Fleming's book about the Romanov family, which was an interesting book. When I started the book, I glanced at the title details and was so sad to see the following: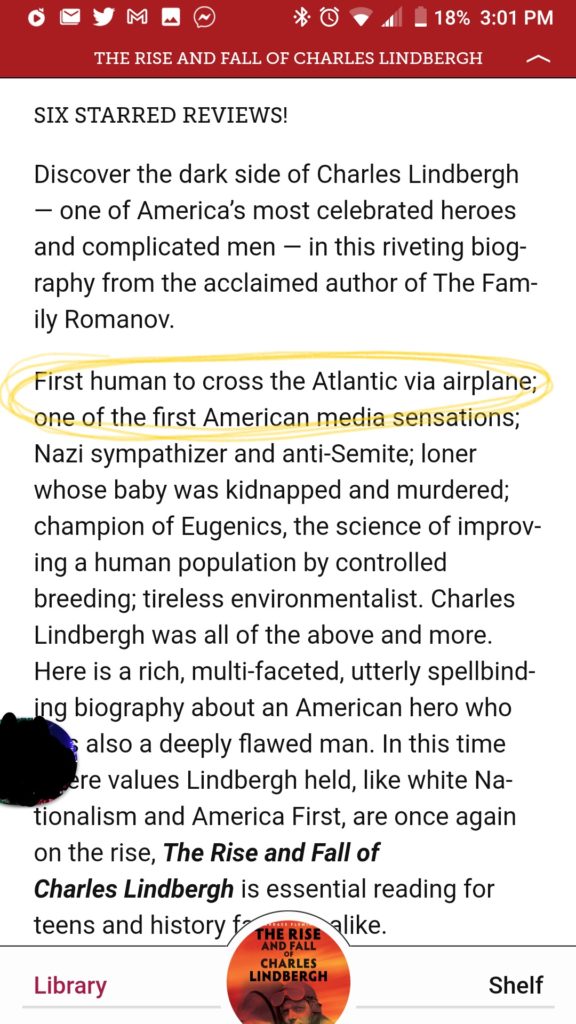 Of course, this is not a reflection on Fleming as authors rarely have any say in how the publisher presents it, but to state that Lindbergh was the "First human to cross the Atlantic via airplane" is just plain false. It concerned me and wondered if the author would also follow this false narrative. Recently, I was involved in the filming of a documentary that is still in production that looked at the view that Lindbergh was the first to fly the Atlantic. It is pretty common knowledge around Newfoundland and Labrador that John Alcock and Arthur Whitten-Brown were the first to cross the Atlantic non-stop by aircraft. Lesser known, is the May 1919 crossing by the United States Navy who flew in three NC flying boats from Trepassey, NL, to the Azores, and, after major repairs to the aircraft, continued on to Portugal, also crossing the Atlantic by airplane, though it was not non-stop. After Alcock and Brown's June 1919 flight, the Royal Air Force dirigible R34 made the flight from Scotland to New York in July 1919. The author does talk a little about Alcock and Brown's flight, giving them credit as the first to fly across the Atlantic by airplane, so this is very much a publisher issue, not an author issue.
The book discusses Lindbergh's politics, particularly his views as an isolationist, eugenics, and his appreciation of the Nazis, and I am not going to go into that in this as it is outside of the scope of my regular research. The author does look at where some of his ideas came from, especially from his father who gave similar speeches in the First World War. Fleming does look at the Atlantic Fever period, which "ended" with Lindbergh's successful flight from New York to Paris making him the first to fly the Atlantic solo. The author briefly discusses the other aviators involved in the race for the Orteig Prize in 1927, but does not discuss the loss of the Oiseau Blanc. As a character trait, it is very telling that the other aviators waited when the Oiseau Blanc went missing, thinking it was in poor taste to make the attempt until there was a better idea as to what happened to Charles Nungesser and François Coli. Two weeks after the French aviators went missing, and there were still searches ongoing, Lindbergh made his attempt, and successfully flew across the Atlantic. Also not mentioned are the flights immediately after Lindbergh. According to Fleming's research, Lindbergh had a passion for commercial aviation and wanted to show that it was viable. Conversely, the Spirit of St. Louis was designed to carry only one person, and everything else was for fuel. Of course, there was the other side of that where Fronk in his Sikorsky had so many luxuries that the aircraft was overloaded and couldn't properly take off. Perhaps a better argument for the potential for commercial flight would have been the Columbia and the America who both took multiple aviators across the Atlantic (the Columbia also came to Harbour Grace a couple of times, which I wrote about here).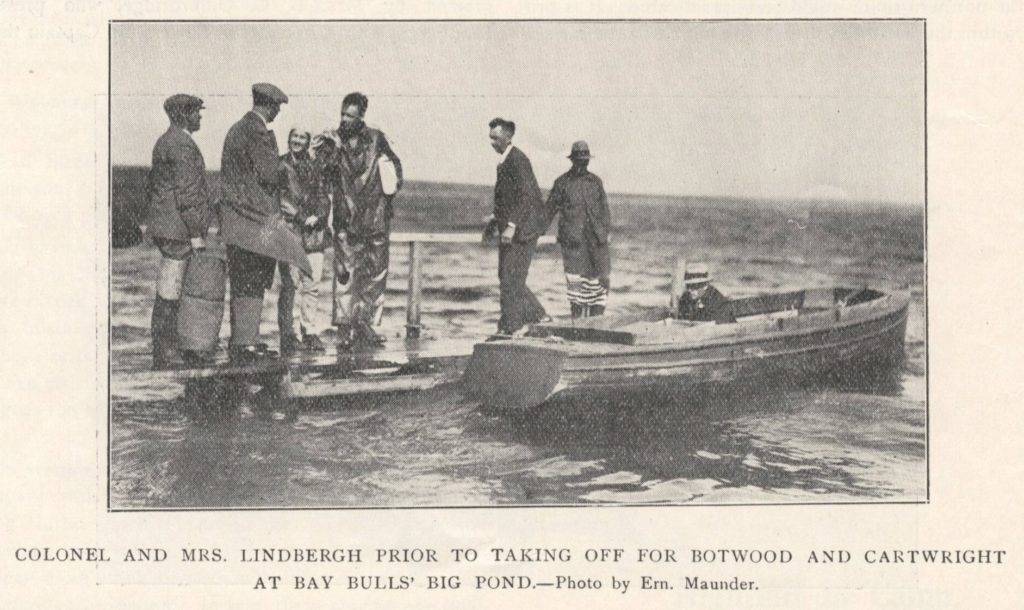 Overall, this is a really interesting book, and I do look forward to finding more works by Candace Fleming. It is particularly interesting in the light of recent events and the rhetoric that has been around for a very long time. Regardless of his politics, from an aviation point of view, Lindbergh did a lot for the advancement of aviation, both commercial and military. "Lucky Lindy" certainly had a lot of luck, but also a lot of skill, to become such a famous aviator. I have a beautiful copy of We, which I reviewed here.